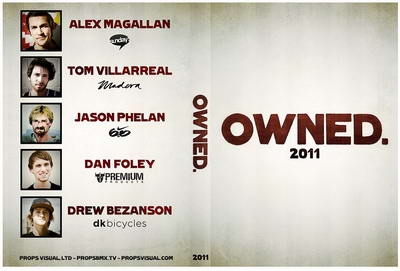 What the heck is Owned?
Owned is a new annual DVD series from Props Visual, the creators of Road Fools, Megatour, and Props Video Magazine.
The concept behind Owned is simple. A DVD with a bunch of top notch, absolutely killer sections from some of today's best riders, produced by some of today's best filmers and editors. But hold on – we're also going to document the process on the web.
As often as possible throughout the year we'll be posting behind the scenes segments of the Owned riders, showing what's going on along the journey to finishing their DVD part. During the course of the 12 month production period of each Owned, each rider will post a number of these BTS segments – which in totality will show interesting aspects of their parts getting made.
To start out the series, we're gonna release Owned once a year in December – with the final rider parts we've been documenting here. Then the next Owned rider list will be announced and we'll get to work making a new one.
The Owned section of this site will serve as a home for all the original Owned-related exclusive content and information.
Owned hopes to deliver top notch, cutting edge content while showing the process along the way.
Stay tuned.
After many months working to arrange the first Owned: 2011 project, we're excited to announce the debut rider lineup. Check it!
DK's Drew Bezanson, by filmer/editor Stew Johnson
Nike 6.0′s Jason Phelan, by filmer/editor Will Evans
Sunday's Alex Magallan, by filmer/editor Stew Johnson
Premium's Dan Foley, by filmer/editor Terrell Gordy
Madera's Tom Villarreal, by filmer/editor Stew Johnson
Check out the Owned 2011 pages for bios and info on all these dudes.
Filming has been underway for some of these guys already, so look for the behind the scenes edits to start coming in soon.
A very special thanks to everyone involved in the project, especially the sponsors helping to support the series.
Preis : 27 €
http://www.deependbmx.de/shop/Medien/Videos/Props-Owned.html
Weitere BMX DVDs im Shop vorhanden.